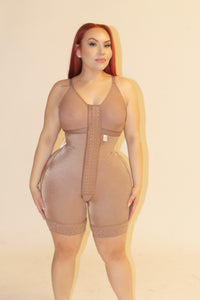 SCULPT is a seamless faja that acts as a second skin to achieve the dreamed hourglass silhouette with more comfort. Silky and delicate touch with the perfect level of compression with waist and lower abdomen focus, great for everyday use.
Details:
•Bust Coverage- Built-In Bra
•Stage 2
•Crotch opening with cover flap 
 (zipper crotch available upon request for an additional $15)
Measurements (Required):
Contour, Waist, Hips and Torso measurements (See Image). Once submitted we will reduce one full size off the waist (approximately 4-6 centimeters) planning for the timeframe it takes for you to receive your faja. If you wish not to reduce one full size, you MUST make us aware at the time of purchase. We recommend the use of an extender to help you "break into" your custom faja, which usually takes approximately 48 hours of continuous use. Your body will adapt as will the fabric of the faja.
What I need to know:
Custom fajas (compression garments) can take approximately 7 business days to be completed followed by shipping timeframe via our preferred carrier United States Postal Service. They are 100% Colombian made and require time for fabrication to specifications. We highly recommend to wait until after cosmetic procedure to place your order. Ideally once swelling has subsided.
Please note, once an order has been placed there are no refunds or exchanges on fajas (compression garments) as they are custom made to your body.
Recommended Use:
Stage 2 ideal for post-op recovery from Liposuction, BBL, and Tummy Tuck, especially for patients who prefer an alternative powernet compression or have sensitive skin.
•Postpartum
•No Surgery
•Weight loss journey
•Bariatric patients
•Maintenance
•Body contouring
•Enhancing curves discreetly under clothes
Note:
The fabric is gentle and elastic, an alternative to Powernet.