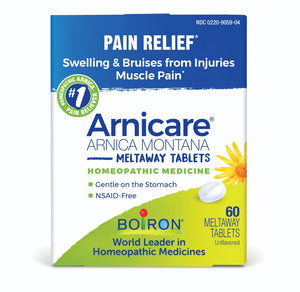 Features
Before pain gets in your way, treat it naturally at the first sign with Arnicare and feel better faster. Arnicare helps to relieve muscle pain and stiffness and to reduce pain, swelling, and discoloration from bruises. Arnicare Tablets help to relieve widespread pain relief for the whole body and may be combined with Arnicare Gel, Cream or Ointment.

Arnica montana (or Mountain daisy) has been used for centuries as a natural pain reliever, and today, it's one of the most popular homeopathic medicines in the world. Arnica is trusted by professional athletes to soothe sore muscles, by prominent cosmetic surgeons to relieve post-procedure pain, and by savvy moms to treat playground bumps and bruises.

Arnicare Tablet's natural active ingredients help to relieve muscle pain and stiffness, sweeling from injuries and discoloration from bruising. These quick-dissolving tablets do not cause drowsiness or interact with other medications.

Arnicare Tablets work naturally with your body, and there's no risk of overdose, no contraindications, no known drug interactions, and a very low risk of side effects when used as directed.